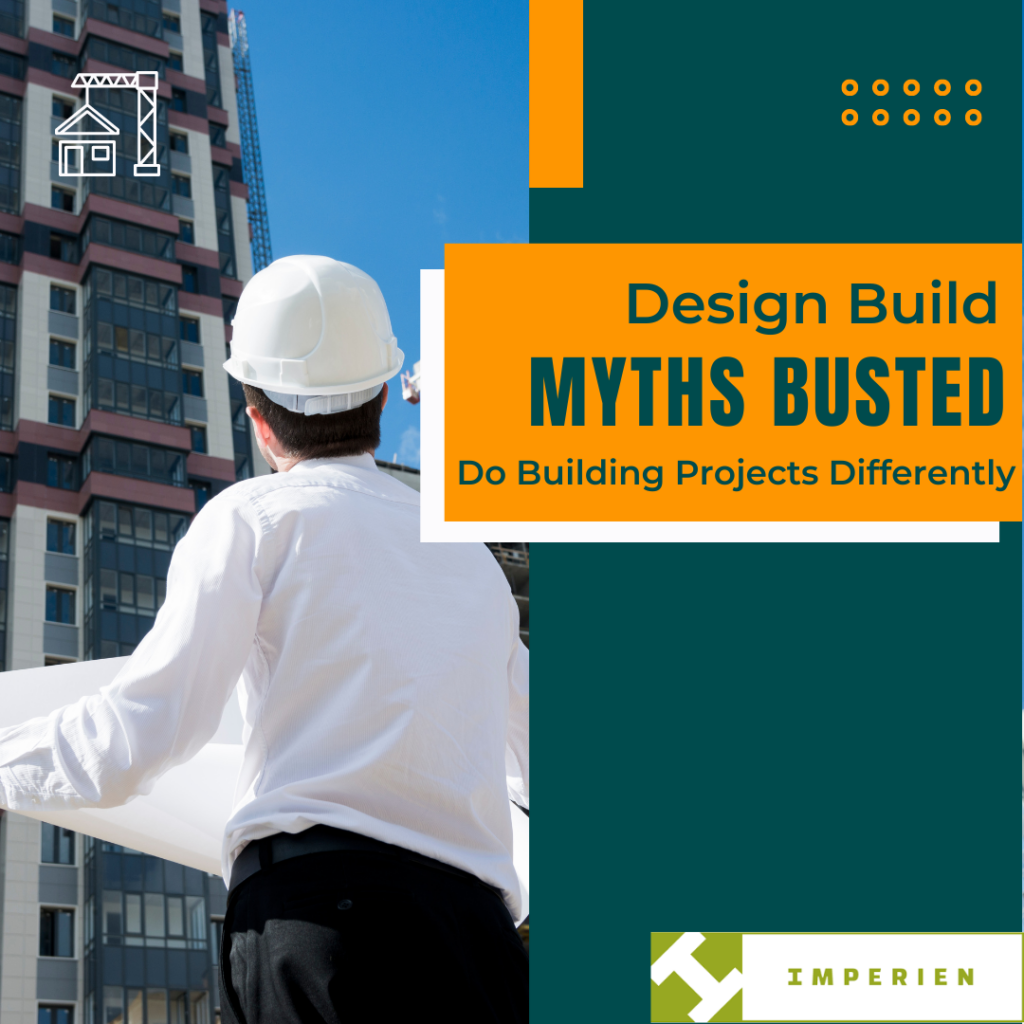 Here's the fact: The traditional process of design-bid- build is inherently flawed. Architects design a building without working directly with construction services. Construction services weighs in too late on materials and processes, driving up costs and timelines in reworking and redrawing. Owners find themselves between these two service providers, managing a construction process instead of their business. What's the fix? Design-build. However, with increasing popularity of the design-build process, myths and misconceptions abound. Here are the top five design-build myths – BUSTED!
MYTH: Design-build complicates a building process by bringing in another party.
Design-build services streamline the process by bringing all parties to the table earlier. A design-build firm serves as the client's construction advocate, assembling the entire project team from conceptual design through construction. This project-team approach alleviates the competing interests at different stages of the project and results in up to a six percent savings on the unit cost of a building project and a 12 percent faster construction speed (Source: Construction Industry Institute and Penn State research) Plus, owners can rely on a design-build firm to protect their interests at every step.
MYTH: Owners give up control in a design-build project.
Project owners are usually a CEO or COO of the business, and a building project is probably among the most important decisions of their leadership career. However, most are not experts in managing business expansion construction projects. They need an experienced advocate to protect their interests, help present an evaluate options, and manage budgets and timelines. With a design-build firm like Imperien, an owner is not only actively engaged in the process, but at the center of all decisions without being burdened in the day-to-day construction management. Since most building project owners have an average hourly rate of $200, (Source: Survey by EVOICE, J2 Global, Inc.) their time is best spent on the business and big-picture strategy.
MYTH: Design-build weakens the competition in forming a project team.
Design-build enhances the project team by considering a host of factors when selecting partners. Design-build firms are looking for project partners competitive on a host of variables including price, quality, capabilities, technical approach, and experience. When forming a project team that considers a project from concept to completion, Imperien considers qualified project team members of all sizes to participate, opening up opportunities for enhanced competition.
MYTH: Design-build favors larger firms and puts small firms at a disadvantage.
Imperien's design-build projects facilitate collaboration, cooperation, and innovation in the project process. Assembling entire project teams at the start of a project allows smaller firms to band together to manage the demands of even the largest projects. By evaluating project team members on a host of variables (instead of just low bid), big companies and local resources are measured against their ability to deliver a superior project for the best value. Whether for a large or small project, design-build is a better way to approach any size construction project.
MYTH: You can't rely on early budgets from a design-build project.
Experienced design-build partners have an in-depth, specialized knowledge to estimate and anticipate construction costs related to the market, inflation, material availability, and nuances of local trade partners. The value they bring to tailoring budgets to the specifics of a project, understanding the local market, and anticipating needs through early involvement of the builder reduces the time and costs associated with reworking designs, cost changes, and avoidable adjustments. Plus, design-build firms like Imperien hold the design and construction contracts directly, serving as the single source of accountability to ensure projects meet client needs and stay within budget.
Design-build brings project teams together early, all focused on delivering on the client's vision for a construction project. The value of the process is measured by the cost savings, time savings, collaboration, and innovation of the project team. With the design-build firm serving as the client advocate throughout the process, project owners can rest assured that the project intent is understood and being protected while they are able to dedicate more time to the strategy of the business.
If you're interested in learning more about the design-build process and how Imperien can deliver your business expansion project, give us a call at 815-988-7970 or click on the button below to send us a message.